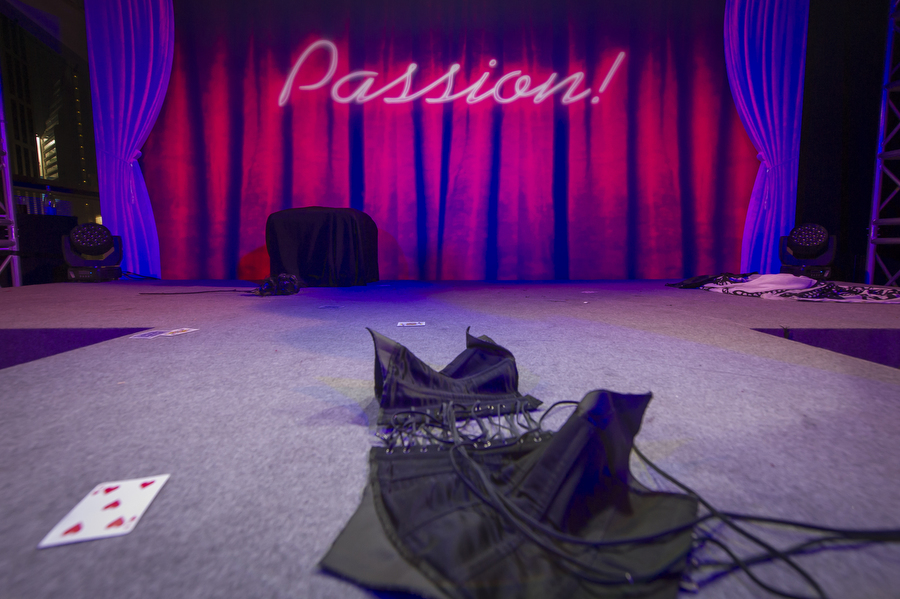 My wife I often asks why I spend so much time and effort with the International Live Events Association (ILEA)? What do I get out of it? After a recent large very successful event I did for a private client, I took a look at how I managed to put together such an incredible team… Quickly realized most of them came from ILEA.
I recently had the pleasure to design and produce a rather spectacular event for a private client. As an independent I work with a wide variety of suppliers and talent from my big black book. In my big black book under B, I have ballerinas for beautiful events and under C the collegiate button down collars for the corporate crowd…  but for this event I needed passionate talented and creative people to help us to push the bar and create something truly memorable. I looking at my cast and crew list quickly I realized that almost everybody in the cast had been filed under I for ILEA (International Live Event Association). Although 8 the cast were old event partners the rest of the 25+ companies I hired came directly or indirectly because of ILEA. #myilea
Cast and Crew
Designed and Produced: Robert Rogers CSEP – that's me
Technical Design and Production: Tom Attenborough , Tom was ILEA Hong Kong's treasurer two years ago…
Production Manager: Pritam Bhavnani  P is my right hand perma-lancer and picks up the mess I leave in my trail, we were introduced in 2006 from the other founding member of ILEAHK.
Stage Manager: Martyn Minns – a stalwart on the event scene, Martyn and I have worked together since before the millennium long before ILEA came to Hong Kong.
Tent Designer and Builder: Clive Kristen – I met Clive at a ILEA networking event.
Band Agent: Connie Riley CSEP – I met Connie in Hawaii in 2005 at ILEA LIVE,
Dance Choreographer and pole dance talent: Emma Seward – I have known the talented Em, Lisa and Aftab of CPG probably for way longer than we would all care to admit. Can't remember the first performance together but must have been ~'95…
Interactive Dance Choreographer: Kate March – I was introduced to Kate via ILEA Hong Kong current VP Education Vincent Ng
MC/ Magician: Paul Nathan – Another one from way back, Paul is based in San Francisco and is doing great things keeping the place weird.
Burlesque Performance: Eden Berlin – Introduced by Paul, he knows all the beautiful people.
Interactive Music: Head Clowns – I picked them up on the street, this incredible duo should be in San Francisco.
DJ: DJ Steve Bruce – A long time supporter of ILEA, Steve has sponsored several ILEAHK functions
Still Photography: Chris Lusher – Chris appeared in my black book in the late 90's …
Slow Motion Photography: Gary Tyson – Gary was an early ILEA supporter and shot some of ILEA's early events.
Video Director/Producer: Daniel Clarke – Although I have known Daniel for a long time I didn't know he did event film work until he showed up at an ILEA event.
Video Cameraman: Piet Defossez – Piet is the current ILEA Hong Kong resident photographer
Video Soundtrack: James Banbury – I met James crossing the street on my way to an ILEA event (does that count?)
Make up and Hair Styling and Coordination– Stephen Harvey – Another industry stalwart Stephen showed up shortly after CPG crew…
Invitation Hair Stylist and event hair crew: Robin Lomas– Robin is back in HK for good and does great work.
Floral Design: Evelyn Tonry – An introduction from Martyn for this event her floral work is amazing.
Furniture: Irroco – Met at an ILEA networking event and happy for it.
Printing: Tinhung – Fast efficient and affordable, introduced in 2006 from another ILEA member
Guests registration: Boris Bareck – Boris is the current VP of Communications for the ILEA HK chapter
Venue: Armani Prive' – I rekon they will join soon
Carpentry and Drapes: Sampson – Sampson was brought in by Pritam who was the ILEA admin for several years.
Insurance: Liam Morarjee – Met at an ILEA networking.
I am very proud of this event, humility aside it is one of the best events I have seen and done. Although as the conductor and designer I get the glory and the credit it all comes down to having amazing support of creative and talented individuals that all work together seamlessly to create amazing experiences and spectacles.
Here's what the participants said:
Dear Robert
OMG how do I say thank you!?!?!  
 I truly had the most wonderful night last night.  You had thought of everything – you made "me" come alive for me and all my friends. 
I have not idea how you did all that while appearing completely relaxed, in control and unperturbed – you are absolutely wonderful and amazing!!!!!
The attention to detail was incredible.  The screens, the lights, the timing, the performers, the whole freaking thing – you did a truly wonderful job. 
Thank you so very much.
xxxxxxxxxxxxxxxxxxxxxxx
 K
From a random guest:
Hi Robert,
We just wanted to let you know what an incredible time we had at K***'s party last Saturday. She deserved nothing less than the best of course and boy was it delivered with panache & then some. We were exhausted from just attending the party and being entertained – so I can only imagine what sort of adrenaline you must have had to run on – congrats on a fab job.
 From another random guest:
Hi Robert
I didn't manage to find you when finally heading off in the early hours after K***'s wonderful party.   However, I did want to say many congratulations on putting together a totally stunning and seemlessly rolling evening.  It was such a fun experience and lovely to see everyone involved either as guests, family or entertainment having a great time.
Just a few of the photos…